Jacksonville Jaguars: Best Player Available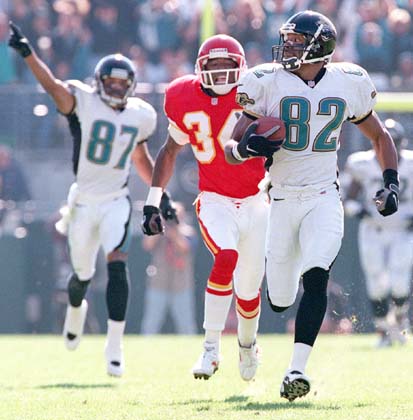 The Jaguars roster construction is under way. The Jaguars have parted ways with fan favorites such as Tony Boselli, Gary Walker, and Aaron Beasley. Who the Jaguars get to replace them remains to be seen. Fans should appreciate Wayne Weaver's aggressive approach to the salary cap problem. Weaver wants to bring a winning team back to Jacksonville as quickly as he can. This years draft will be very important.
Right now I think our biggest problems are OT, DT, WR, CB, DE, LB, and backup QB. Now we can't address all of these areas this year. The Jags have implemented a 2 year plan to get us back on the winning track. With that many positions open, the Jags should be able to draft the best available talent and fill a need. By next year's draft we will have most of the positions filled and our salary cap under control.

OT - Texans selected Boselli leaving Jags to fill his void.
DT - This was an area of strength before the expansion draft. Walker and Payne will be playing with the Texans.
WR - McCardell is expected to be released after June 1st. The Jags have brought in Patrick Johnson and Bobby Shaw to fight over the number 2 position.
CB - Jags cut Aaron Beasley to get under the cap. Craft and Thomas stepped up last year but still aren't proven.
DE - Brackens will still be a force. Spicer is becoming a good player. After that there isn't much.
LB - I don't think this position is as dire as everyone is making it out to be. Kevin Hardy's contract expired. Slaughter and Westmoreland will be back. Thomas and Posey are decent backups.
QB - John Quinn became a free agent. The Jags will keep there eyes open for a QB prospect.
American Football Conference

NORTH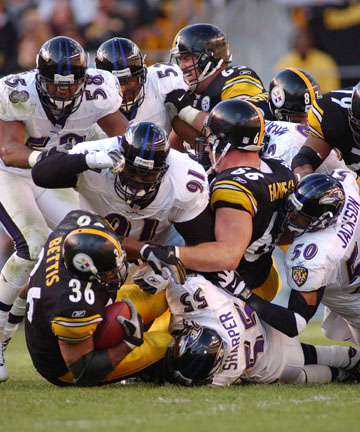 Baltimore: DL, WR, LB, OL
This team has been gutted. The Ravens have holes at just about every position. The team will probably address the DL in the first round.
Cincinnati: OL, DL, TE, QB
The team addressed their CB problem in Free Agency. The Bengals have to get younger along the OL. Team may draft QB Joey Harrington.
Cleveland: RB, OG, OT
The Browns have a couple of good young RBs on the roster but seem ready to add another. Team has solidified the MLB position by picking up Earl Holmes. Team still needs to beef up their OL.
Pittsburgh: S, CB, TE
Steelers need to upgrade their defensive backfield, they are trying to do this through Free Agency. If they don't have any luck there they will turn to the Draft. Team signed LB James Farrior to replace Earl Holmes.
East
Buffalo: DT, QB, S
If the Bills keep their first pick I expect them to take a DT. There are rumors Buffalo will trade the pick to New England for QB Drew Bledsoe.
Miami: OT, DE, C
Injuries decimated the OT position last year. Dolphins have Jason Taylor at right DE but need someone to compliment him on the other side. Team has struck out in their attempt to sign a C in free agency.
New England: WR, CB, LB, DL
The Patriots are thin at WR after their offseason house cleaning. Team cut Bryan Cox and will need to address LB. The Pats will look for a CB to pair with All-Pro Ty Law.
New York Jets: DT, CB, FB
Jets need another DT to finish the transition from 3-4 to a 4-3 defense. Team will look to add depth to their new Defensive backfield. New York may use a first day pick on a FB.
West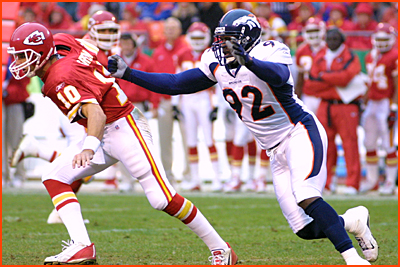 Denver: DL, OL, WR, S
DL was porous last year allowing big plays while not making many. The OL became a nightmare position this offseason, with the Broncos losing out on several players they were trying to sign. Team signed WR Rob Moore in case McCaffery can't make it back from injury.
Kansas City: DE/DT, WR, LB
Cheifs need someone that can pressure the QB. Signing Johnnie Morton pushed the need for a WR down some. Team wants to get younger at the LB position.
Oakland: DT, CB, S, WR
Raiders may be without DTs Russell or Jackson next year. Team cut S Pope for financial reasons. Eric Allen might retire before next season.
San Diego: CB, OT, S, LB
The Chargers will address CB in the early part of the draft. RB Tomlinson will be happy to see more beef on the Offensive Line.
South
Houston: QB, TE, DE, S, WR, LB, RB
The Texans have been on a spending spree since the Expansion Draft. They have picked up a lot of good frontline players but need the Draft for roster depth. Houston has verbally committed to drafting QB David Carr with the first pick.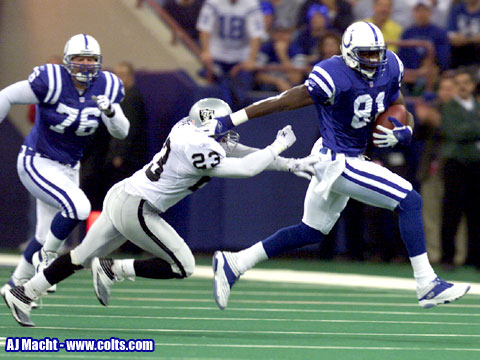 Indianapolis: DT, DE, S, OG
Expect new head coach Dungy to draft DEFENSE, DEFENSE, DEFENSE on the first day of the draft. Team could use an upgrade at every defensive position.
Jacksonville: Read in-depth Article
Tennessee: WR, S, DT, LB
Derrick Mason can stretch the field, but the Titan's need an All-Pro WR. Tennessee has spent the entire offseason interviewing Safeties and still haven't signed one. Team will address DT early because both starting DTs won't play next season.
National Football Conference
NORTH
Chicago: DE, LB, TE, QB
The Bears need to pick up a DE that can get to the QB. Team needs to get a TE to work the middle. Look for Chicago to take a QB early on.
Detroit: CB, DE, OLB, TE
Lions could use help thoughout their defense. Team seems enamored with CB Quentin Jammer. They may use a first day pick on a TE after losing incumbent Sloan.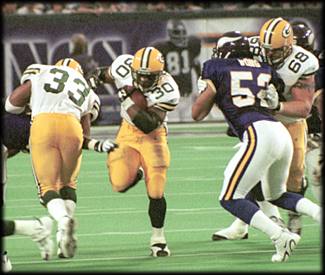 Green Bay: MLB, DT, OT, WR
The Pack needs to replace LB Benardo Harris and DT Santana Dotson. Team traded for WR Terry Glenn, but the other starter Freeman could be cut.
Minnesota: DL, OT, WR
Vikes need to draft someone to help DT Chris Hovan. He was constantly double-teamed last year. Team will use an early pick to replace WR Chris Carter. Mike Tice could draft OT in first round.
East
Dallas: RB, WR, CB
Cowboys spent extra time at the combine looking at RB's and DT's. Expect the unexpected from Owner Jerry Jones. Team addressed CB and DT needs through Free Agency.
New York Giants: OT, LB, TE, S
Giants need OL to open holes for Dayne and Barber. Team may draft a pass catching TE on the first day. New York must find a replacement for S Sam Garnes.
Philadelphia: DE/DT, LB, CB
Eagles need more of a push in the running game. Team will draft another DT to help Corey Simon. Team should use a high pick on CB to help aging stars Taylor and Vincent. Eagles removed the Franchise Tag from LB Trotter.
Washington: QB, WR, OG, TE
Spurrier won't stand for an inept QB. The Redskins new offense will call for a lot of 5 WR sets. Team need to improve interior of their OL.
West
Arizona: DE/DT, RB, QB, CB
Cards will try their luck one more time on the DL. RB Pittman bolted to Tampa Bay leaving Jones to handle the load. Might be time to draft a QB in case Plummer can't step up.
San Fransisco: DT, FS, OG, WR
Team will upgrade the DT position. WR J.J. Stokes still hasn't produced, team needs a solid #2 receiver. 49ers may not be able to re-sign FS Schulters.
Seattle: DL, S, OT, TE
John Randle isn't a spring chicken. They need someone to play center field. Holgrem likes to get the ball to his TE.
St. Louis: CB, WR, OT
CB Williams is a dominant player but the other CB position is rather weak. Lost starting OT and backup OT. One thing is for certain, whoever the Rams draft will be fast!
South
Atlanta: WR, LB, OL, S
The Falcolns will supply QB Vick with a top notch receiver. Vick was sacked a lot last year, team will have to draft lineman to protect him. Atlanta's LBs and Safeties are all free agents.
Carolina: CB, DE, LB
The Panthers cut both starting CBs. Carolina will draft a DE on first day. Team needs depth at LB position.
New Orleans: WR, CB, DE, OT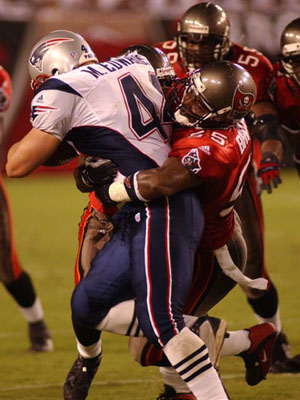 Secondary gave up big plays this year. Saints signed Jake Reed to be the 3rd WR but now the team will look for another starter in the Draft. DL became a dire need after losing Glover and Johnson.
Tampa Bay: WR, LB, CB, DE
Keyshawn Johnson had 106 receptions and 1 TD, the Bucs need to find someone that can score. LB Duncan signed with the Rams. Team released CB Donnie Abraham.